NEW DATES-Gasparilla Concours d'Elegance 12/4/21 @ 9:30am-4pm
December 4, 2021 @ 9:30 AM

-

4:00 PM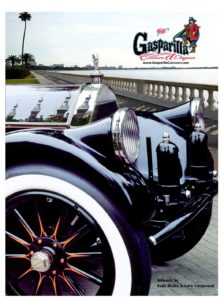 Below is the official announcement issued by the Gasparilla Concours organizing committee:
Over the past few weeks, we have been closely monitoring and evaluating the situation around COVID-19 to ensure we are taking the necessary measures to protect the health and well-being of Gasparilla Concours attendees. As a result, we have made the difficult but important decision to reschedule the 2020 Gasparilla Concours d'Elegance to December 3-5, 2021.

The 2021 Gasparilla Concours d'Elegance is an official club event of the Hillsborough Region AACA at ​www.AACAHillsborough.com. ​
Click Here for: The "Official Website" for this event (https://www.gasparillaconcours.com).

Click here for: The "Official Facebook Page" for this event (https://www.facebook.com/TampaConcours/).

—————————
WHAT:
2021 Gasparilla Concours D'Elegance (Tampa)
Presented by Hillsborough Region AACA

Benefiting Shriners Hospital for Children Tampa, Florida

WHEN:
* FRIDAY, December 3, 2021 from 6-9pm: "Gasparilla Cars in the Park" / Cocktail Party and Charity Auction
* SATURDAY, December 4, 2021 from 9:30am – 4pm: Gasparilla Concours d'Elegance Car show
* SUNDAY, December 5, 2021 from 9:30am – 1pm: "Gasparilla Nickel Tour" of Historic Tampa
WHERE:
TPC Tampa Bay Golf Course
5300 W. Lutz Lake Fern Rd., Lutz, FL 33558

For More Information, contact:
[email protected]
(813) 714-1019