Collector Car Appreciation Day 2023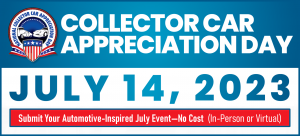 ACTIVITIES ARE IN THE PLANNING STAGE COME BACK LATER FOR DETAILS.
For an official SEMA Webpage for this event–>, click here.
For the National Facebook Page for this event–>, click here.
WHAT:
ANNUAL COLLECTOR CAR APPRECIATION DAY

The SEMA Action Network (SAN) announced, "the next Collector Car Appreciation Day (CCAD) will be officially celebrated on Friday, July 14, 2023. The date marks the fourteenth consecutive commemoration in what is now an annual event to raise awareness of the vital role automotive restoration and collection plays in American society."

JAMES WRIGHT SAYS:
By a resolution of the U.S. Congress, the second Friday of July has been designated as Collector Car Appreciation Day. The term collector car is not defined other than any vehicle that has collector value. Each organization is left to determine what a collector car is.

The Fort Lauderdale AACA has decided that basically any vehicle that is eligible for collector car insurance qualifies as a collector vehicle regardless of age or condition – antiques, rods, replicas or exotics.
THIS IS A REGISTRATION FREE EVENT.
WHEN:
Friday, July 14, 2023
WHERE:
To be determined
DIRECTIONS:
QUESTIONS:
e-mail: [email protected]